When you search Bristol Newborn Photography a huge amount of choice is available.   I've been a specialist newborn photographer for over 15 years.   I'm highly qualified and safety is my overriding concern.  I was also the first in the UK to achieve associateship with the Master Photographers Association).   I believe in clients having an informed choice, and with the newborn photography industry totally unregulated it is really important to choose the right newborn photographer for you.  Definitely price should not be the overriding factor when you choose.
I'm really lucky to have a job that I absolutely love.   At the moment because of the Coronavirus Pandemic I am obviously not shooting so I thought it would be nice to show some "throwback" images of past sessions.  I have some lovely session from which to choose.  Here is baby O.   I so loved this session – she was a total sweetheart.  The theme for the session was pink, so I used a gorgeous muted pink.   Nothing too bright, but a gorgeous pink which would compliment this beautiful baby's skin tone.   I'm really privileged to have photographed this gorgeous baby since, and I'll be photographing her parents wedding which I'm really excited about.    There are so many things I love about my job, and one of them is the relationships I get to build and maintain.  Photographing a family's special moments really makes my day and brings me joy.
I don't just carry out Bristol newborn photography, I carry out Bristol wedding photography and Bristol family photography too!
So here is the absolutely beautiful baby O.   Newborns grow and change so quickly. This little one is now walking.  That's why it's important to have these newborn images captured so you have them for life.  You'll always remember this beautiful teeny stage which passes so quickly!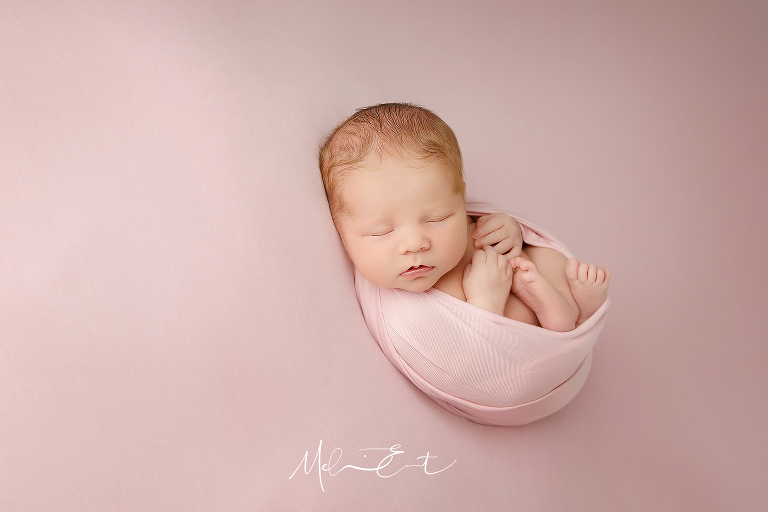 If you are expecting a baby then please do get in touch with me.  I can't photograph newborn babies right at the moment because of the Pandemic – but as soon as it is safe to do so I'll be back capturing gorgeous newborn memories.  To have a look at my newborn portfolio please take a look by clicking here.