Newborn Photography Bristol
Specialist newborn photography – this adorable teeny baby girl came to me to be photographed – she was three weeks old and so so sweet!   Whenever I carry out sessions which involve babies on props I always have the baby supported by either a spotter, or the parents.  In this picture Olivia's mother was supporting Olivia, to ensure that she did not jolt or move while the shot was taken.  Her mother has been "airbrushed" away in post production.    Safety is always my top priority.  I never ever take risks with newborn babies (or any babies!).  Babies are never ever left on props unattended.
We wanted a beautiful fresh light and airy look for this image to suit Olivia's beautiful skin tone.  We wanted the image to have a serene and calm look.  I ensured Olivia was in a lovely deep sleep.   I then gently posed her ensuring that I could see all her beautiful features.
Introducing Olivia ..   Isn't she absolutely beautiful?  This is why newborn photography is important.  This picture shows how tiny Olivia was as a newborn baby.  Never again will she look like this.  These are memories which cannot be recreated.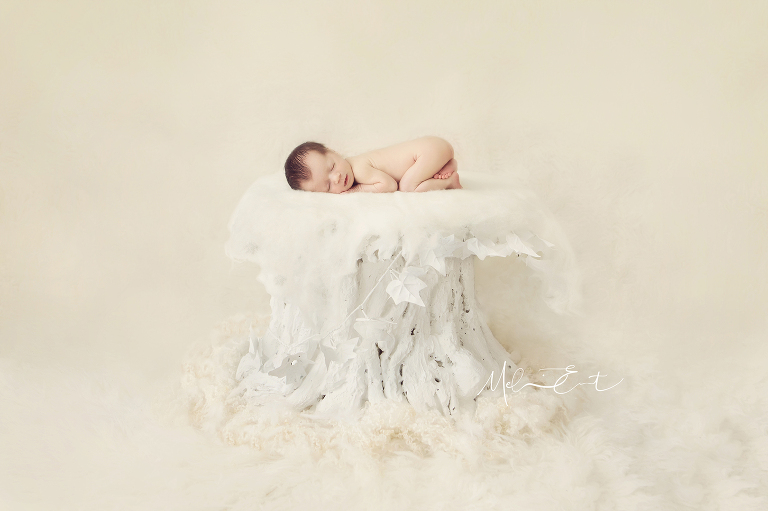 I love to create beautiful artistic images for my clients.  I create newborn and baby photographs which stand the test of time.  Photographs which the parents will always look back on and love.    To have me photograph your newborn or older baby please email me by clicking here
I also train newborn photographers.  If you are a photographer and you are interested in training, please click here.