I thought it might be helpful to talk to you about older baby photography.    Older babies are classed as those who have passed that newborn stage, so from around five weeks onward.  It can be possible to get newborn style images at around 5 to 6 weeks, but not always – it very much depends on the baby.    Many of you may have missed out on newborn sessions if your baby was born during lockdown.   For safety, I postponed my client's sessions and some of their sessions are now taking place.  Their baby may not be a newborn baby anymore but it doesn't mean I can't take the most beautiful pictures for you of your baby at this stage in their life.
Newborn photography is very special, but older baby photography is just as special!   When your baby is over five weeks old you see their character coming through.  Babies are more alert meaning I can achieve very beautiful charismatic photographs.  They are smiley as they react to me talking to them.   In short, they are pure joy to photograph – just as newborns are, but in a different way.
I love photographing babies of all ages, and one thing which is consistent in my studio and when I photograph is safety.   The welfare of the baby comes *first*.  I know, I've said it before that that fact should be blindingly obvious.  The photography industry is unregulated – appallingly so.   There are photographers who have been operating illegally during lockdown and those who are still photographing without taking proper safety precautions – awful I know.        You'll never find me skimping on safety.
I photographed this gorgeous little girl when she was 9 weeks old.  She was booked in for a newborn session, but I explained to her parents that I was unable to photograph at that stage, it simply didn't feel safe.  They understood completely and waited.   I was able to photograph her at 9 weeks and she was a complete joy.  I photographed her on her back and I did not touch her once.   Photographing from above ensures I am as far away as possible while still being able to create adorable baby photographs.   Both parents and I wore face coverings.  My studio had been deep cleaned and all fabrics had been disinfected.
Here is one of the resulting images!  Just look at this little one – her gaze into the camera and her smile as she reacted to me.   I had a variety of set ups ready, having discussed with the parents which colours they would like.  This beautiful pink is one of the set ups.   I love the photographers that I created and more importantly so do the parents.  I had photographed both of her older brothers as babies.     Here is what baby A's parents  say about their experience with me and the resulting images:
"Thanks so much, we are absolutely thrilled.  I wouldn't trust anyone as much as I trust you, as we know safety comes first and when it was safe to photograph Ayda you did so beautifully. We couldn't be happier."
Here is baby A – isn't she divine?!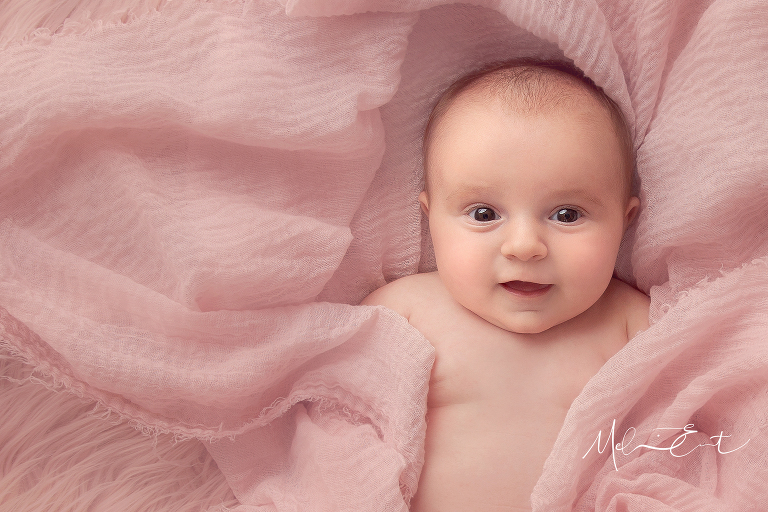 If you have had a baby during lockdown and you are interested in older baby photography carried out in the safest possible manner, then I am the girl for you.  Please just contact me by clicking here.   To view my work click here.