I thought it may be helpful for clients to know what changes I will be making to baby photography during the Coronavirus Pandemic.
Studios have remained closed up until Monday 15th June.
However, no photographer should photograph newborn babies until hairdressers have been given the go ahead.   The reason for this is because the nature of newborn photography means close contact.   We touch and pose newborn babies before we photograph them and we lull them to sleep.   We refine the poses by moving little hands and feet.   The reason that hairdressers have to remain closed at the moment, is because the government do not deem it to be safe.  The same would apply to newborn photographers.    I take the wellbeing of my clients incredibly seriously and for that reason alone I will not put them at additional risk.
I should make it clear that the risk to newborn babies is considered by medics to be low – babies are either asymptomatic or they are mildly unwell.   However, that doesn't give newborn photographers carte blanche to carry on as they usually would.
When hairdressers are able to re-open only then will I be photographing newborns.
In order to reassure you about booking for baby photography during the coronavirus pandemic I set out below how my studio sessions will be adapted.
The shoot will be limited to one hour so that we are not in the same room for too long. (Newborn sessions would usually be 3 hours). Don't worry I can create a gorgeous gallery with your baby all wrapped up within that time.
Touching of baby will be kept to an absolute minimum.
Poses will be limited to wrapped poses but in the most beautiful set ups.   I can easily create a gorgeous gallery with a wrapped baby!  Plus wrapped babies look so snug and gorgeous and cosy!
The wearing of face coverings for clients is mandatory.
I will be wearing a face covering at all times.
Parents will be asked to remove shoes on entry into the studio and to sanitise their hands using the provided ethanol hand sanitizer.
Social distancing must be observed.
I will be using ethanol based hand sanitiser after touching *anything* – to keep you reassured.
Windows will remain open to ensure ventilation
Usually newborn photographers would use a fan heater to keep baby warm but no fan heaters will be used to avoid spread of any disease.  Baby will be lovely and warm as s/he will be beautifully wrapped up.
Clients are asked to bring their own refreshments if wished.  I'm so sorry about this as I love to provide cookies or cupcakes – but it is for your safety.
Baby will be photographed from above to maximise the distance between us.
All cottons will be washed at 60 degrees.
Delicate fabrics will be quarantined for 72 hours.
Maximum 1 session will be carried out in my studio per week.
Studio will be deep cleaned before each session using dilute bleach.
Parents will be required to fill out a very brief health questionnaire the day before the session to confirm they are not exhibiting symptoms and do not have a temperature.  This includes members of their household too.
I will confirm to parents that I remain well, am not exhibiting symptoms and do not have a temperature.
I will confirm to parents that nobody within my household is exhibiting symptoms nor a temperature.
Sessions will be postponed if parents or I have a temperature or exhibit any symptoms relating to Coronavirus.
I know that I have clients who have booked with me who are waiting for me to photograph their newborn babies.  Indeed one of my sessions was supposed to be today.  However my clients understand why I am not photographing newborns quite yet.  They understand and respect that safety absolutely must come first.  For many, the reason that they booked me aside from my work, is because of my total commitment and dedication to newborn safety.  As you will see from the safety measures above, I take the safety of baby photography during the coronavirus pandemic very very seriously.
Here's an image of a totally gorgeous baby all wrapped up.  See what I can create with minimal touching?!  This image was taken a couple of years ago – I still absolutely love it – love the tones and colour – gorgeous baby!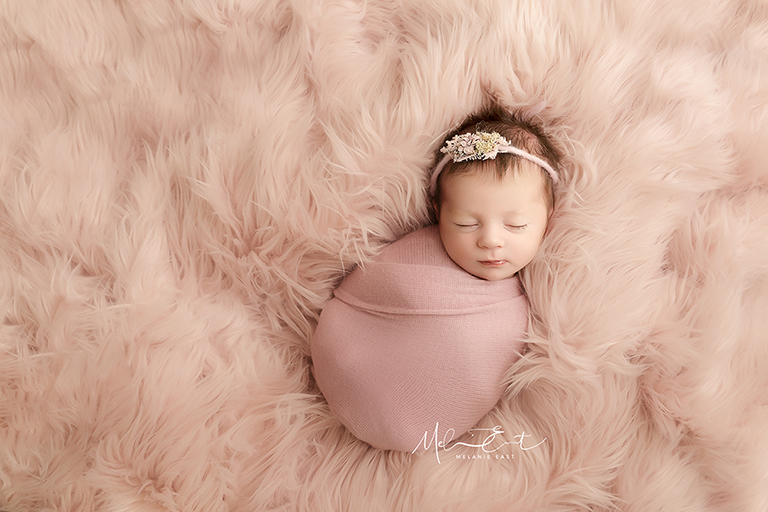 If you would like to book a newborn session for your baby then please book while still pregnant – you can see my portfolio by clicking here.   To make a booking simply click here