Printed newborn images matter.   They are your memories.   We live in a digital world and digital images are important, there is no doubt.   I offer both to my clients.  They can choose from digital images, or print or both, because I believe in offering what clients want.   80 percent of my client choose printed and digital together.
The reason that printed newborn images are so important is because digital isn't archival.  Cloud storage can fail, and technology changes.  When was the last time you were able to play a VHS video?!  Or even read images from a CD rom? Then think about how your feel when you look through an album, how you can feel and touch the pages and turn each one reminiscing.  You just don't get that with a USB stick!   I really love to look at printed photographs from my own childhood.  If digital media had been available at that time I'd have a very slim chance of being able to look at anything taken of me as child.
Many people believe that digital images are best because then they can get them printed themselves.  The thing about that is this – the general public do not have access to professional labs.  They cannot receive the same quality that my incredible lab in Italy can produce.  You've invested in professional photography, so allow your photographer to have those images printed for you – so that they are provided to you as intended.     Otherwise your photographer is really only doing half a job! And what's more, busy parents often don't have the time to even get around to having their digital images printed.
Let's take this analogy : If you book a restaurant and you order a beautiful meal, would you expect to receive the ingredients on a plate ready for you to prepare and cook yourself?   Of course you wouldn't!  The same is true for professional photography.   Allow your photographer to take complete control to ensure that you receive the most beautiful final product.  You'll be ever so glad you did!
Just look at these – beautiful HD fine art images – with a 300 year colour guarantee!  Only the very very best for my clients.  They are beautifully mounted in thick cut mounts.  Aren't they divine?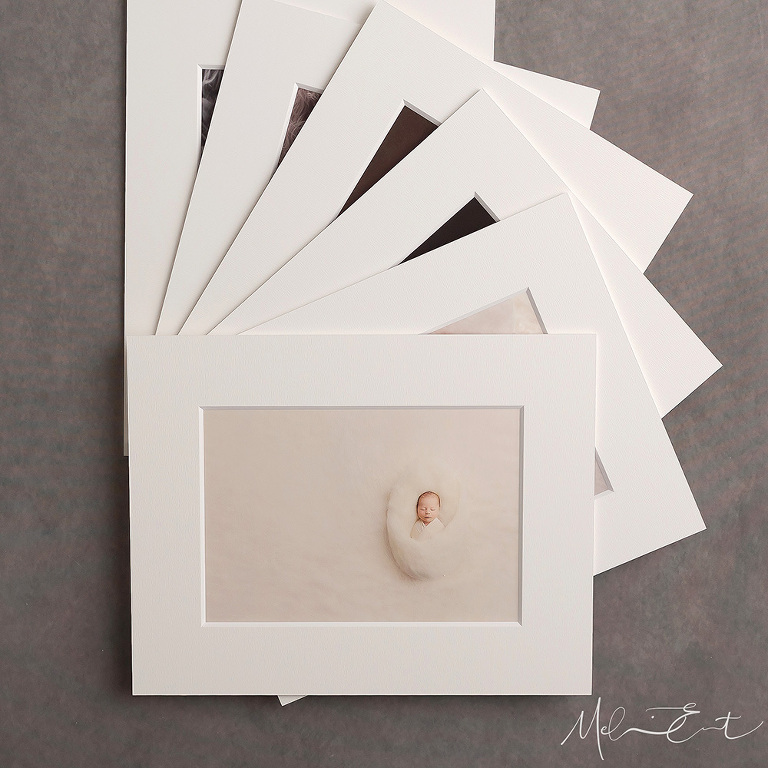 I'll be featuring some of the printed newborn images which have come back from my lab for clients in upcoming posts.    To check out some of the printed products I offer please click here.