When you come to me for newborn photography, I love to give you a super newborn photography experience.   I am very aware that this may be the first trip out of the house since you have had your baby.  Therefore you can expect a warm welcome, comfy sofas, tea, coffee, juice, or water.  And of course some goodies, whether that's Fiona Cairns cupcakes, cookies and fruit.
One of the most important things to me is that you feel relaxed and at ease.   My 15 years of experience means that I know how to settle babies, and very few cry when in my studio.   My clients love watching how I create the safety possible set ups for their baby and then gently place them and photograph them.    Some clients read books, or browse the internet and simply just relax.
I never want a parent to feel uneasy.  I'm a mother myself and I know that "tiger instinct".   I ensure that you are one hundred percent happy with everything that I do.   Relaxation and calmness is the order of the day.
I asked my clients which five words they would use to describe their experience with me.  How did I make them feel?   Here is what Kirsty (who has had me photograph both of her babies) had to say:
"happy, safe, emotional, relaxed and special."
And that is exactly how I want my clients to feel.   I'm very in tune with new parents.  I still remember the tiredness of those early days!  And I know there must be a little bit of concern, handing your baby over to a newborn photographer, you've only ever spoken to on the phone (or email). I understand completely.
I'm here to give you a super newborn photography experience in every way possible.   And the images you'll receive?  Well let's have Kirsty tell you how she feels about the images I created of her babies.
'[I felt] very emotional and happy.  Like someone had just shown us our children for the first time.  You made the whole experience very special for us.  You gave us the time to first take them all in and then helped us choose the photos we wanted in the box.  Both viewings felt perfect. I feel happy and excited, emotional and proud.  [The photographs] remind us of what's most precious and beautiful to us.'
Kirsty – I loved every moment and I am so pleased you found the experience so special.
And here is an image from Kirsty's latest session her absolutely gorgeous baby boy.  This shows her beautiful baby all cocooned in the softer most luxurious fabrics, fast asleep.   Serene, calm, beautiful. And more important than anything – safe.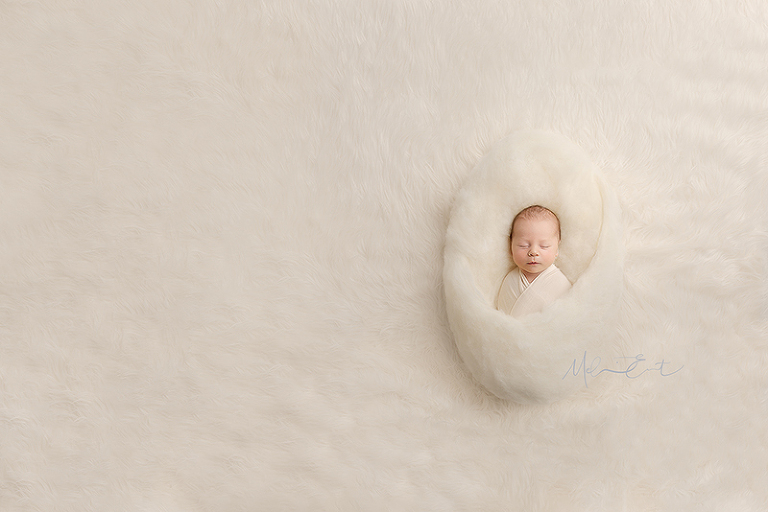 If you would like me to photograph your newborn baby then please get in touch.  With Covid-19 I am unable to photograph *at the moment* as it is illegal for photography studios to operate – this means that insurance is likely to be void, and you definitely don't want to be choosing an uninsured photographer!    I am waiting until the time is *right*.    To view more of my newborn work please click here.  If you are a newborn photographer or aspiring newborn photographer and you would like to enquiry about training then you need my other site which you can access by clicking here.