Newborn sleep patterns
Newborn sleep patterns are something that I researched a lot when I was pregnant.  Being a specialist newborn photographer I know a lot about newborn sleep patterns and when babies are in a deep sleep.   Newborn sleep patterns vary as all babies are different, but generally newborns sleep for around 15 to 16 hours in every 24 hours.   Some newborns sleep for up to four hours at a time, and sometimes a little longer and some sleep for 2 – 3 hours at a time.
When newborn babies are awake they are usually feeding.   However, some newborns I have had in the studio are perfectly happy wide awake (and I love to get some awake shots of newborn babies!).  Often though after feeding babies do want to go straight back to sleep.
Different sleep stages
Newborn babies have two different kinds of sleep:
Quiet (deep) sleep – this is when newborns are still and their breathing is deep and regular.   They are less likely to wake up.  This is when I pose newborn babies during a photography session.
Active sleep – this is when newborns make some noise and move around quiet a bit.  Babies are easily woken during this time.   I always try to get babies into a deep sleep before placing them down.   When my daughter was born I used to put her down too early!
When newborn babies go through a sleep cycle it takes around forty minutes and it comprises of both deep sleep and active sleep.  You'll find that at the end of each cycle baby will wake for a while.   Of course, babies don't know the difference between night and day so they will wake several times in the night for a feed.  This can be really tiring for parents.  The good news is that this stage generally doesn't last too long.  Some parents report that when their baby is around three to four months old things tend to settle a bit.  They find that their baby starts to sleep for a little longer.
I will be writing a separate blog post about settling babies.  As a newborn photographer it's my job to be able to settle babies easily in my studio.  Many of my clients call me "the baby whisperer", so I'll share some tips in a forthcoming post!
In the meantime, here's a gorgeous little sweetie wide awake with his parents, during part of his newborn session.  Look at that wonderful eye contact!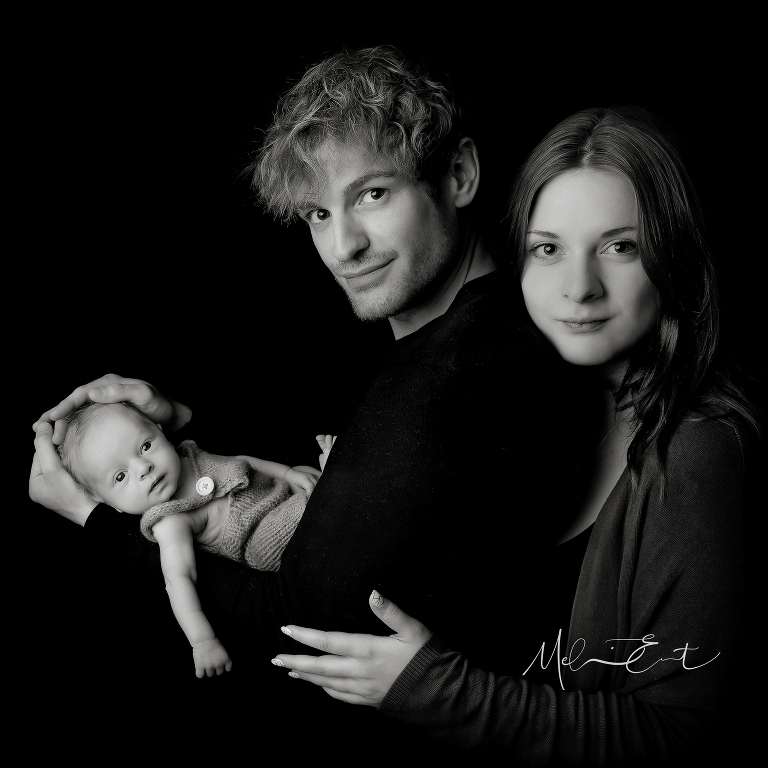 If you would love me to photograph your baby then please get in touch.   I can create the most beautiful images.   Take a look at my portfolio by clicking here.